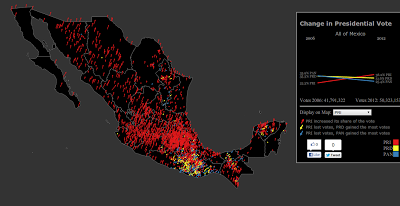 Click on the image to visit the interactive version (Spanish)
I liked this
visualization by the New York Times
of the
US
presidential election so much I decided to recreate it using Mexican data, and in the process added a
slope graph
. So go visit my
new visualization of the change in presidential
vote from 2006 to 2012 at the municipality level. I recommend using
chrome
to view the visualisation, there's also a
Spanish version
.
The
PRI
gained votes in almost all the big municipalities save for Villahermosa (Centro). The home state of
AMLO
.
PRD
candidate. Interestingly, he did gain votes in several of the municipalities that make up the Monterrey and Guadalajara metro areas.
PRI
. I was not surprised to see the
PAN
lose votes in Culiacán, Juárez, Chihuahua, Cuernavaca, Tijuana, Zapopan, Guadalajara, Monterrey…
P.S.
The code for the interactive chart is
here