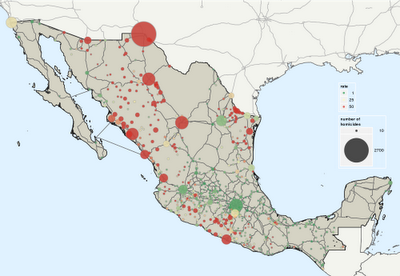 It turns out it is really easy to customize maps with Fusion Tables and the Maps
API
so I recreated the above map of the number and rate of drug-related homicides by municipality or metropolitan area.
Drugs Enter Here:
Waypoints:
(Ctrl-Click for multiple selection)

Exit:
The legend is the same as in the first map: the green colors correspond to lower rates and the reds to higher ones. I capped the maximum rate at 50 to make it easier to distinguish the municipalities. Make sure you check out the terrain view.